Friends —
It's a boy! You may have already known that, but in case you haven't heard yet, I'm very pleased to let you know that J. Michael Frederick II has finally arrived!
Michael was born at 7:12pm on Thursday, March 3rd, weighing in at 8 pounds, 13 ounces, and 20 inches long. Praise God, baby and mom are doing great — happy, healthy, grateful, and incredibly blessed.
Amy and Michael checked out of the hospital four days later with a clean bill of health (but lots of recovery for Amy) and came home to two very excited big sisters. Dad, too, is doing well and relieved to have a bit more testosterone in the Frederick home — and it's nice to have some blue around to contrast the sea of pink I've been drowning in.
As you might imagine, diaper changes have been more challenging, but we're mastering the technique. So far, only a nurse has been the victim of Michael's aim. It's only a matter of time, though — Michael never seems to want to stop eating — and he has no problem keeping the pipes clear.
My apologies for the delay in writing; things around the house have been a bit hectic these days.
Thanks to so many of you for all of your prayers, love, support, friendship, and well wishes. We look forward to seeing you soon and introducing you our latest gift from God.

P.S. Visit my Facebook page for more photos and recent updates (http://facebook.com/vajeff).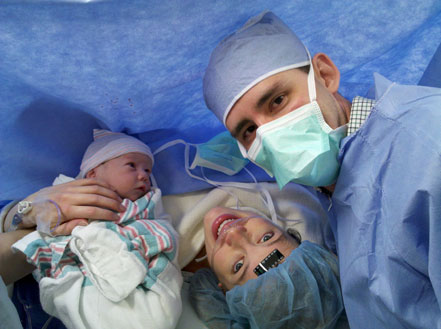 About 5 minutes old.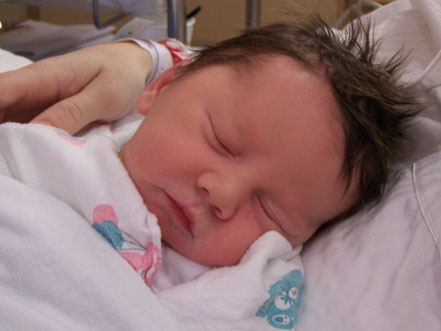 About 17 hours old.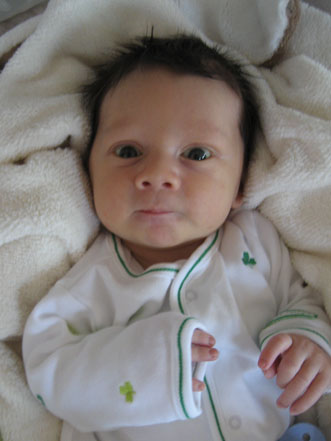 First St. Patrick's Day.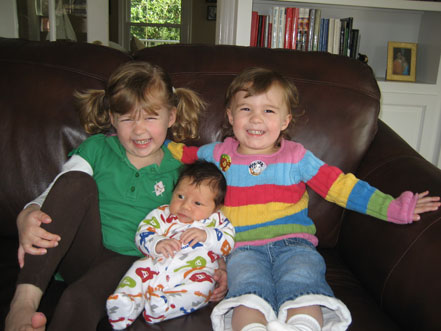 Today (3/20) with big sisters.