Sailing. Skiing.
Flying. Travel.
Wit. Sarcasm.
Banter. Politics.
Beer. Dadding.
#musicismydrug
An intellectually curious, fiercely loyal, potty mouthed crazy fun sailor, skier, pilot; well-traveled, half-Colombian, quick witted dad and entrepreneur who lives on a lake, goes to EDM festivals; a Ben & Jerry's addict and loves beer (but offsets both at the gym).
bio
his story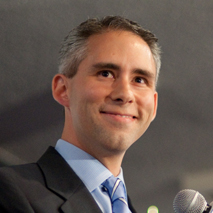 Jeffrey M. Frederick served three terms in the House of Delegates, the lower body of the General Assembly of Virginia representing parts of Northern Virginia and the Washington, D.C. suburbs. He is the first Latino to be elected to any position in Virginia state government in its long 400-plus year history.
Jeff is also the former Chairman of the Republican Party of Virginia, and a former member of the 168-member Republican National Committee.
When elected to the legislature, Jeff was the youngest member of the General Assembly, and when elected chairman, was the youngest state GOP Chief in the nation.
During his legislative career, Mr. Frederick was a member of five standing committees: Finance; Transportation; Education; Health, Welfare, and Institutions; and Privileges and Elections. He was first elected in November 2003, re-elected in November 2005, and again in November 2007 with 59% of the vote — in what many viewed as a strongly Democratic-leaning district.
He has served on several boards and commissions, among them the Northern Virginia Transportation Authority, and the Virginia Small Business Commission, where he was Chairman. He is a prior board member of both the Hispanic Business Roundtable and the Latino Coalition.
Jeff has been active in a number of local and national political, community, and professional organizations, including the Club for Growth; the Republican National Hispanic Assembly; America's Future Foundation; is a "Young Leader" in and member of the American Swiss Foundation; a longtime member of the Council for National Policy; and he's a regular Renaissance Weekend attendee. He is Founder and Chairman of Virginia's Future PAC. He also served on the Civilian-Military Council at Marine Corps Base Quantico and is a graduate of the FBI (Federal Bureau of Investigation) Citizen's Academy. Jeff is a member of the Brewers Association and the Virginia Craft Brewers Guild, where he serves on the Government Affairs Committee. Jeff also previously served on faculty at the Leadership Institute.
Mr. Frederick has been featured on a variety of national and local television outlets (including Fox News, CNN, MSNBC, NewsMaxTV, NBC4, and NewsChannel8), radio and print media, and has written for publications such as the Washington Times and the Richmond Times-Dispatch.
Professionally, Jeff is a career long entrepreneur having spent the last twenty-plus years running companies and organizations, with a solid background in information technology, beverage, real estate, public affairs and policy, and political/issue campaigns/advocacy. He is currently "Prime Minister" (President/CEO) of Brew Republic Bierwerks, a brewery he founded in 2014.
Jeff is a graduate of Oxford College and Emory University with degrees in economics and political science. He is a lifelong sailor who has been skippering boats (big and small) since childhood, an avid alpine skier, private pilot, beer enthusiast, and notwithstanding as uncharacteristic it may seem, a crazy fan of EDM (electronic dance music). He's also been, through thick and thin, a Redskins fan since he could say "football". In his younger years, Jeff was a high level competitor in swimming and cycling.
Jeff is a Virginia native (born in Fairfax hospital). He lives in Montclair with his children Grace, Isabel, and Michael. They attend All Saints Church in Woodbridge, Virginia.
---
Download head shot for Jeff Frederick: right click here, and select "Save Target/Picture As" to download a high-resolution version of the photo at the top of this page.
bio